Mountain Bike Trip to Zittau Mountains - Part Two
Part Two — The Cross-Country Ride
The plan for the second day was: get up early (crashed to the bed at 22:30 the day before), take a train to Liberec on the Czech side, do a loop there and ride back. The GPS tracks I created were about 80km total with two 1000m climbs included (to be honest, I forgot to check the total climb on the tracks).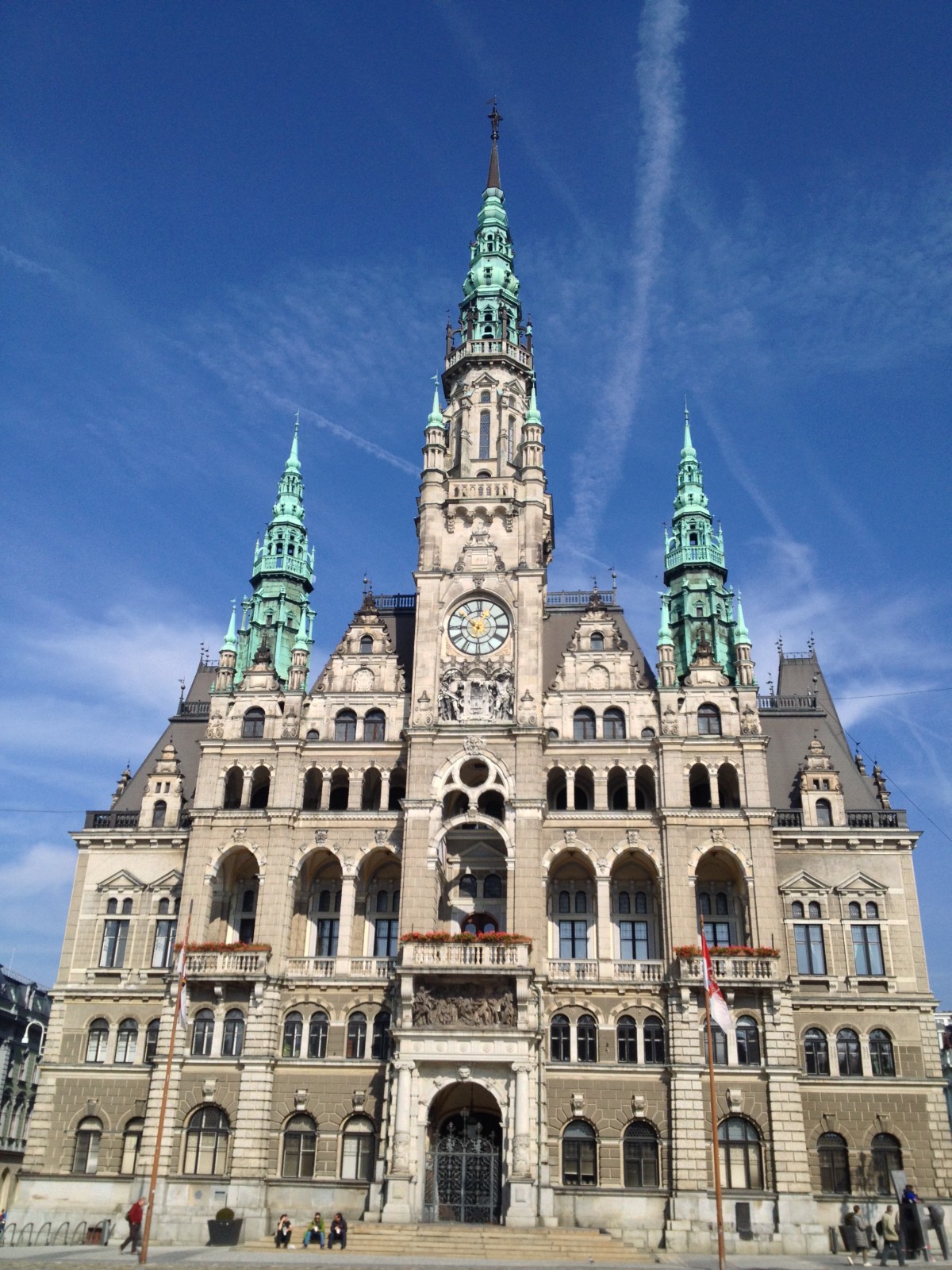 Town Hall of Liberec
Liberec is a surprisingly large city for this region, apparently the third largest in the country. To me it feels like a small Prague with pretty Town Hall, hills around, trams and cobblestones.
The ride through the city to the foot of the hills is a good warming up as it is a slight climb only and pretty straightforward to navigate. After passing by the Zoo the route turned into a trail which shortly got steeper and steeper, with more rocks and even more rocks. Hated the Alfine and myself for not buying the largest cassette. But soon(ish) the suffer was over and changed to mostly wide gravel roads, some asphalts and a couple of smaller trails. It was getting much colder (10C) as I entered a zone where it was sort of foggy (no sun at all) and absolutely regretted not bringing windproof gloves.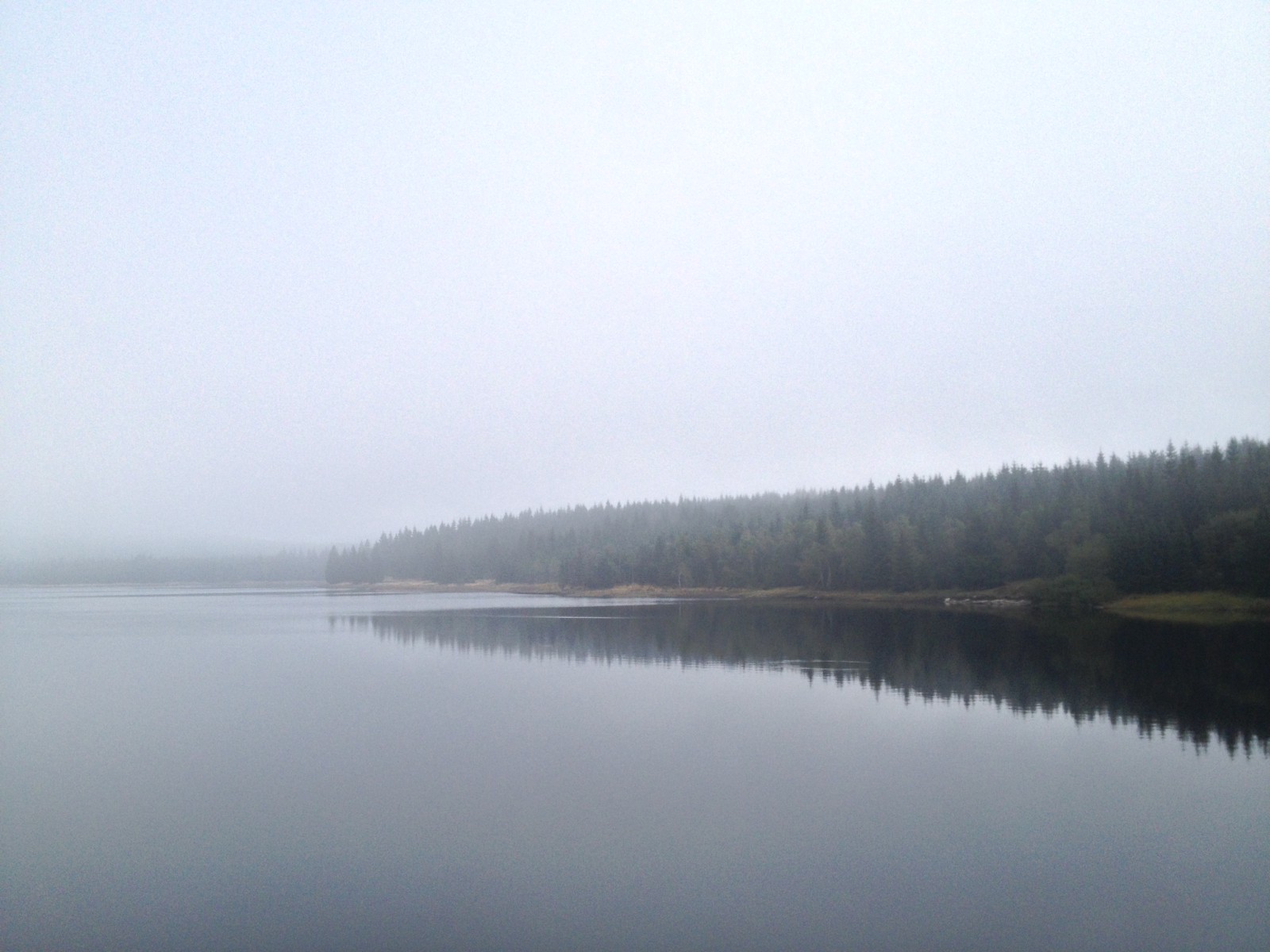 Fog zone
The "cold problem" got quickly solved because there was even more gravel roads to climb to the summit. At about 950m the sun came out and soon I reached the last saddle before the summit. The last kilometer was a narrow trail cut into knee-deep thick vegetation, with lots of curves and drops over large rocks (was not fun uphill, could have been fun downhill with a more serious all-mountain bike).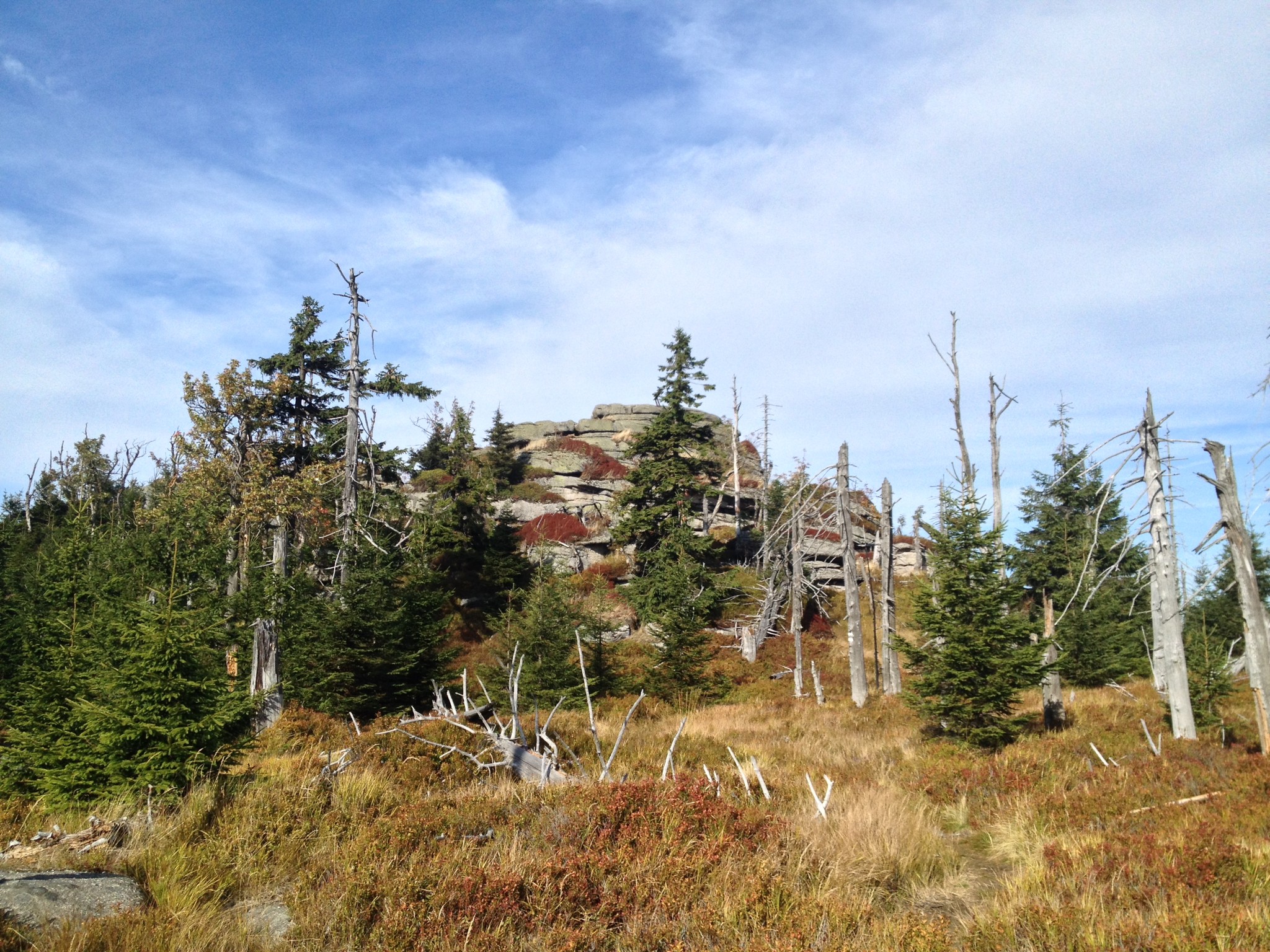 Holubník from below
The last few meters to the summit involved climbing a sandstone rock — sadly I had to leave the bike behind. Had lunch and did sunbathing on the cliff, the temperatures were around 20C this time, with a light breeze only.
What I expected for going down (and kind of remembered having planned) was trails, what I got was quite a bit of asphalt (much much disappoint for a mountain biker, even worse than climbing on asphalt) and gravel roads.
Except for two sections: there was a short but exhausting climb on a trail following some sort of abandoned fence (only poles carved from a single piece of rock remained) with so many roots everywhere there was basically no way to avoid them with carefully choosing the line, I had to brute-force ride over them which was more exhausting than I wished… (By the way I love this about having a 29-er: assuming you have enough power, it will just roll over everything.)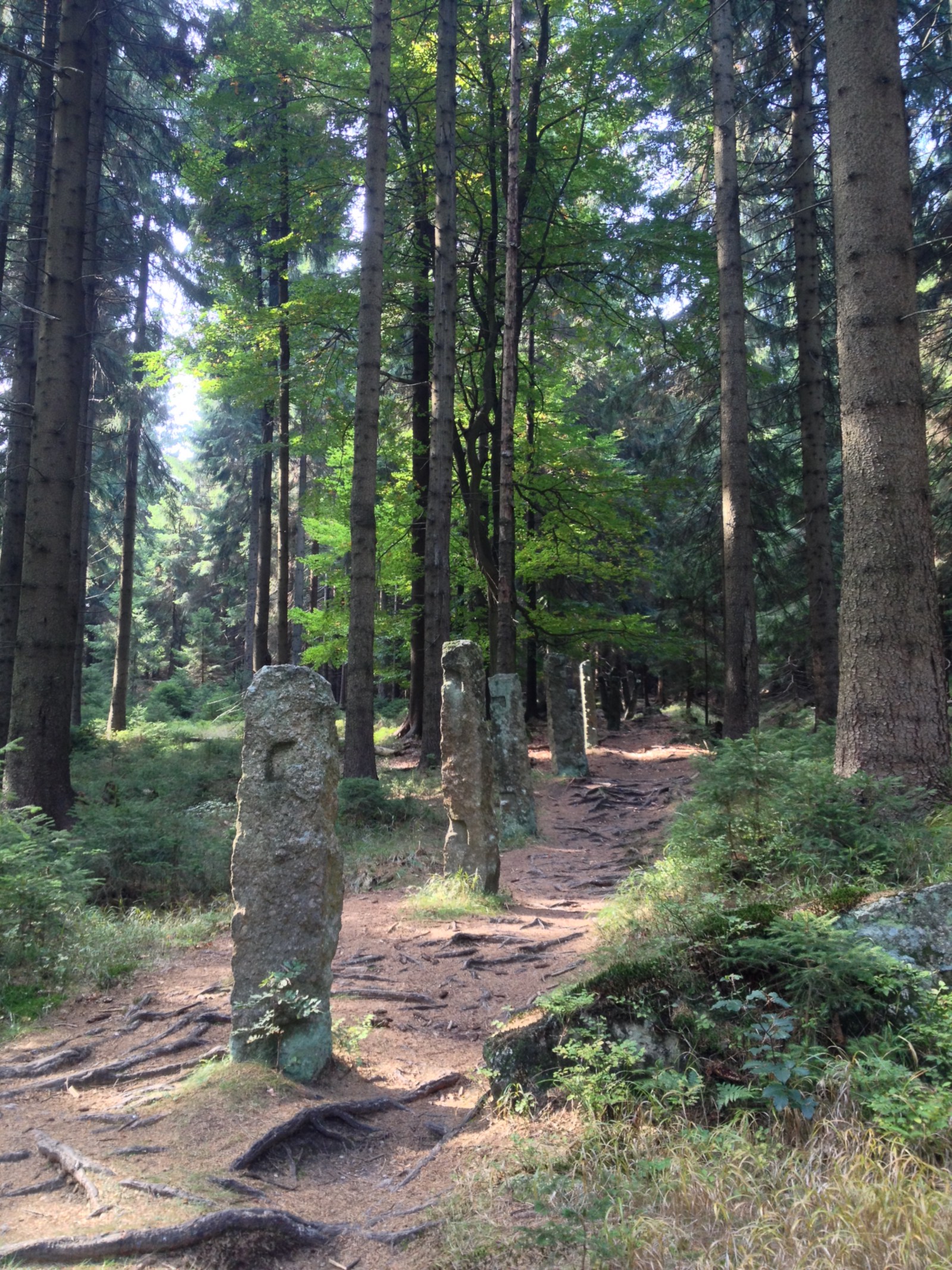 The other fun-ride section was the last few kilometers before getting back to Liberec. The route became trails again, perfect balance between technical and fast, roots and rocks, straight and switchbacks. However, this was the area (and time of the day) when is was also very frequented by hikers (families with kids and dogs) which slowed me — as a responsible rider ;) — significantly. Still, if was good and fast fun until I reached the city again.
Another obstacle on this part was some sort of railing that is built across the road to help draining water from the surface. Pretty common on mountain roads, however these were special. Unlike the ones I have seen everywhere else, which are easy to ride over even when going fast, these were of triangle shaped cross-section, with one of the sharp edges upwards. I could not think of anything else for their secondary purpose than slowing down bikers going down fast (which sort of makes sense, have seen so many kids riding downhill like hell between hikers with kids & co.).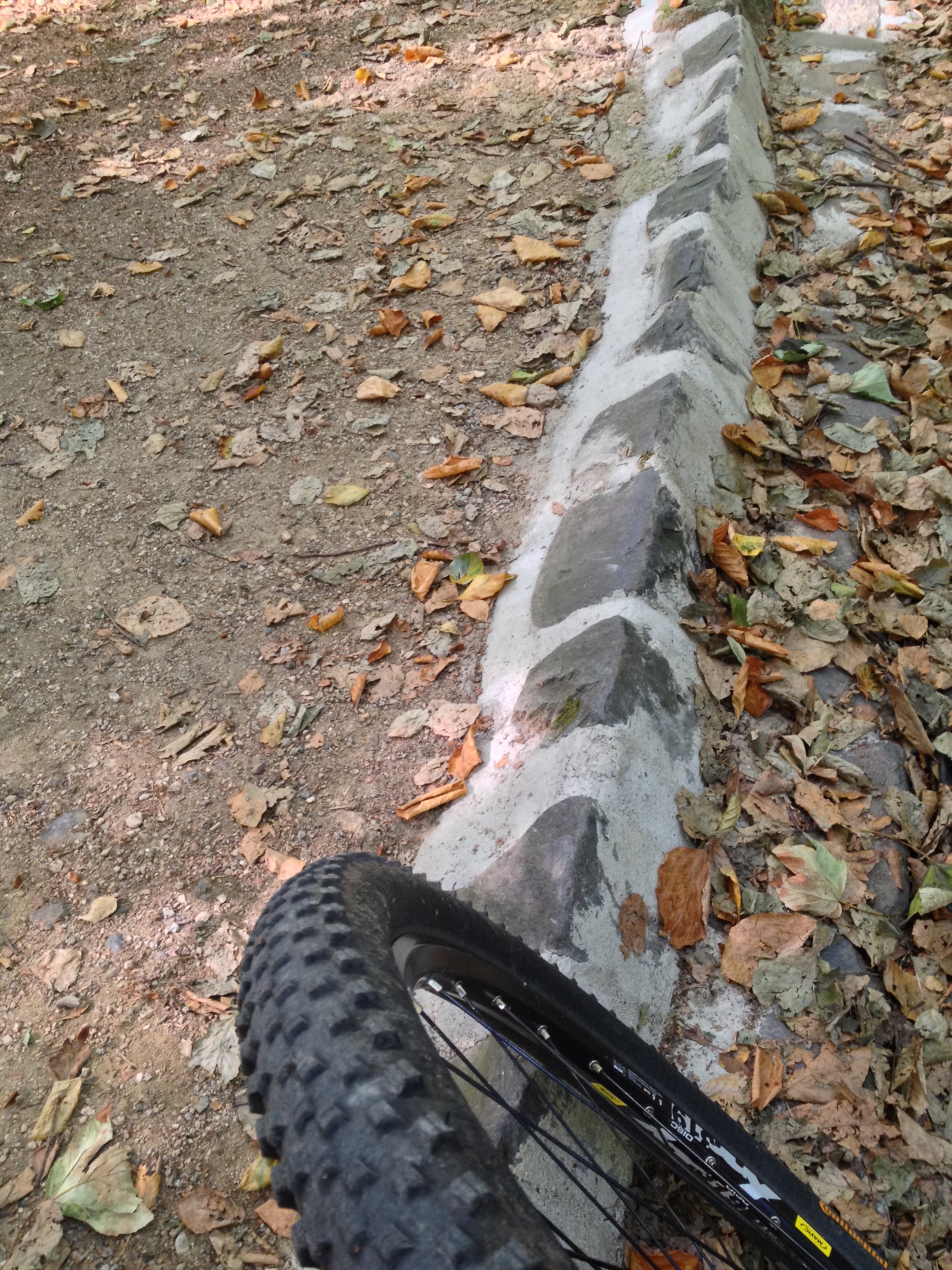 The anti-bike (?) obstacle
By the time I got to the train station of Liberec, I was feeling tired and hungry, so I stopped for a caffeine + food refill. The hotdog and cappuccino consumed while sitting on the stairs of the station did miracles. I decided to do the second half of the ride as planned: go for the Hausberg of the city (1000m+) and then ride all the way back to Zittau.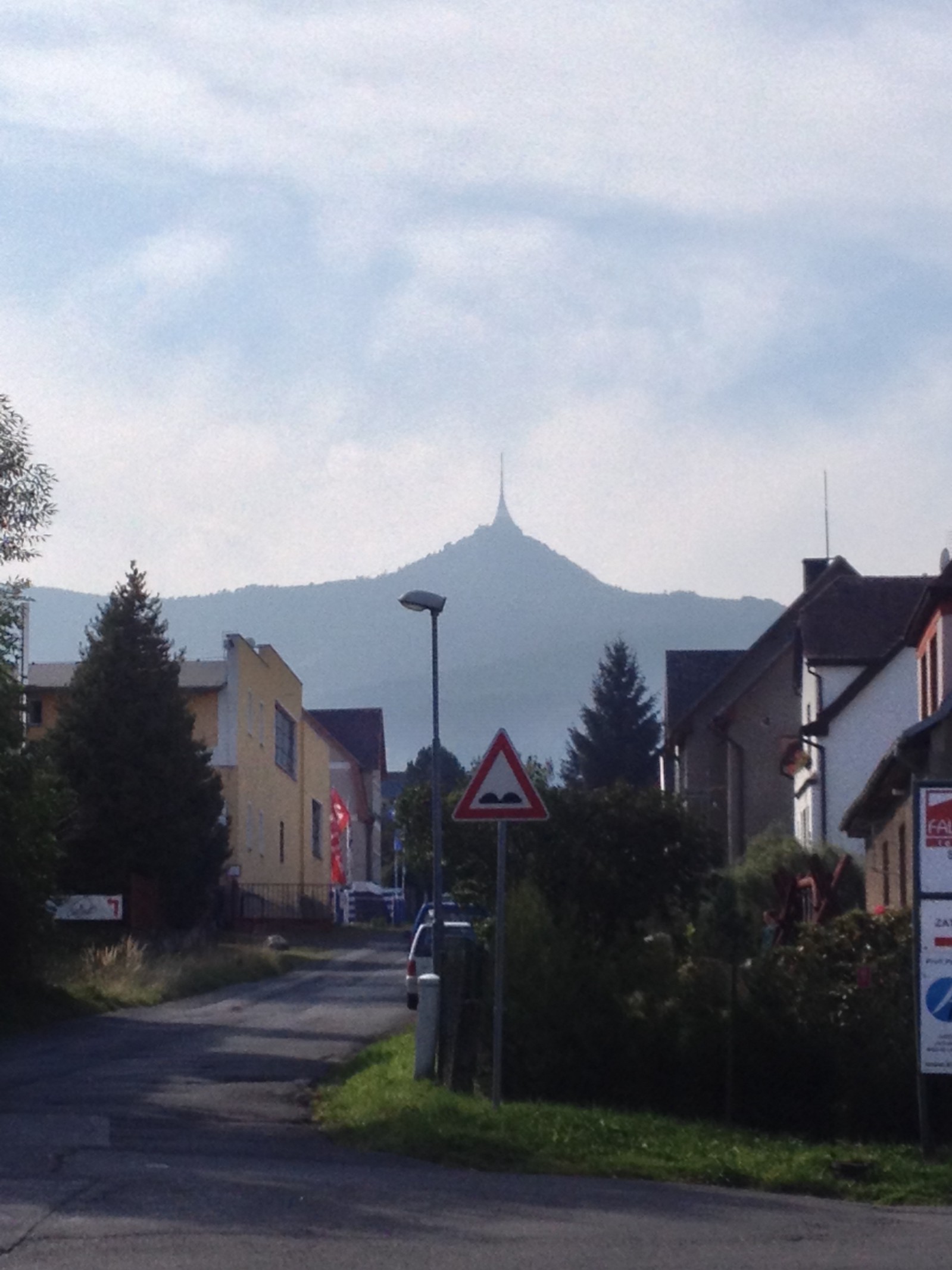 Ještěd 1012m
When I reached the lower station of the lift going to the top, I was already considering to take the lift (thighs badly burning) which plan I quickly dropped. However, shortly after this upon entering the trail to start the ascent and I got almost hit by two super-fast mountain bikers doing serious downhill (huge forks, full suspension, protectors everywhere). This was absolutely demoralizing and after a short consideration I abandoned the plan to summit altogether. The new plan was reduced to "ride all the way home before sunset" (taking the train back sounded like accepting defeat at that point).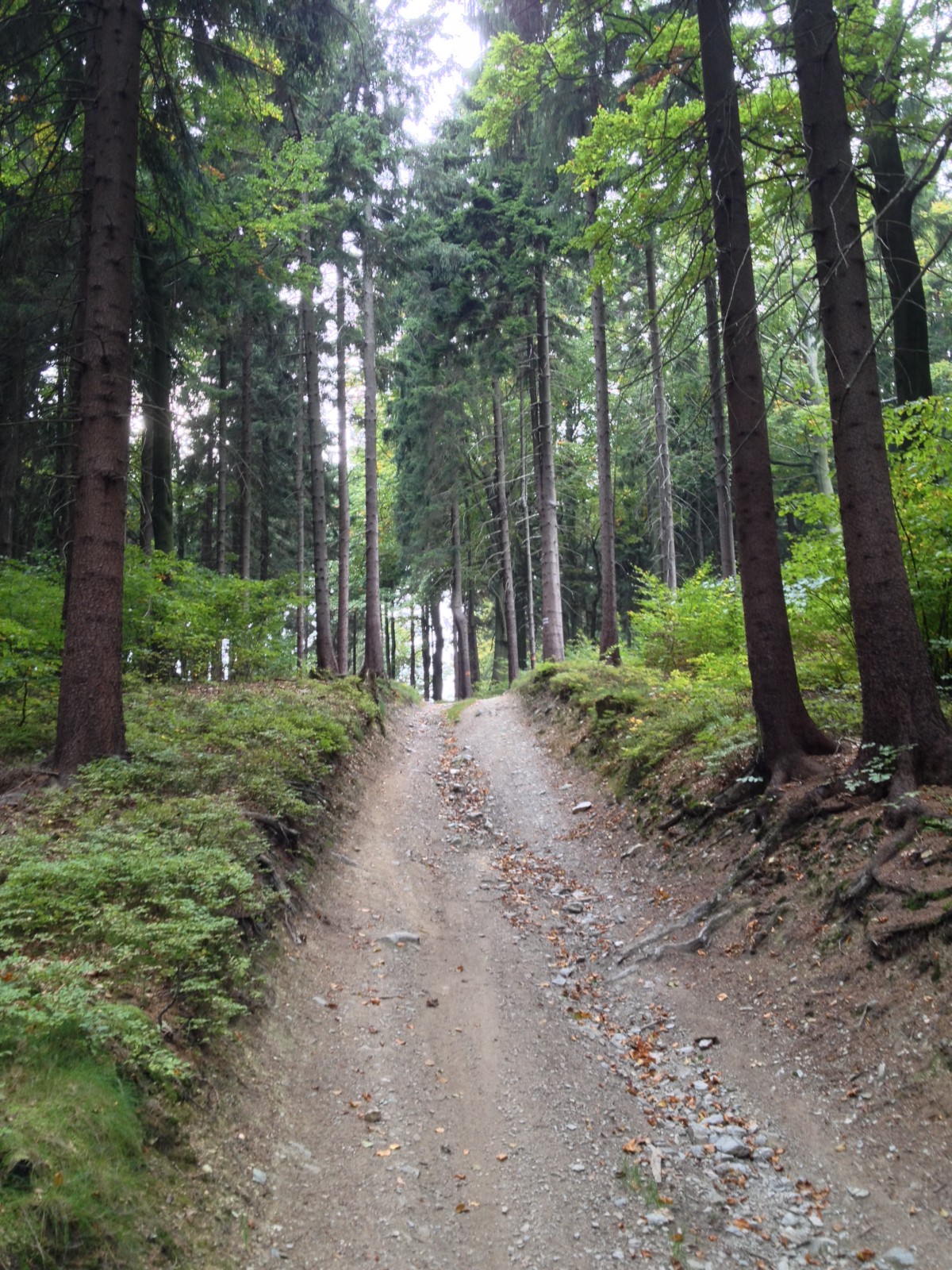 The alternative route around the summit was a suffer climb, a trail following a main road in a few 100 meters distance. The road was busy with loud speed-motorcyclists and holiday hikers riding downhill scooters (this is a thing!), most of them without helmet. By the time I arrived to the saddle, I hated everything and everyone (including myself). There was, however, for my rescue, a small booth selling snacks and beers: I went for the latter and some snacks from my backpack. (Meanwhile, a young couple with a baby was enjoying the fresh mountain air by simultaneously smoking, and dudes on sport-motorcycles kept on speeding on the road-curve behind my bench. Such a miserable place, I thought…)
After the break I continued riding towards home, which was less of an easy ride than I expected. Countless of smaller hills with short but killer-steep climbs were followed by rewarding downhills (that — fortunately — keeps me motivated).
In about half an hour after I left the parking lot with the beer-booth, I ran out of water. This only happened to me only about two times in my career (including hiking), and it meant that I used up all the 2 liters of water (plus the 0.5 beer). Damn, I should have checked the hydration bag when I stopped last time! Anyway, quick check on the map (fortunately I had a hiking map on the Garmin besides the built-in cycling one) showed a spring in a reasonable distance (and villages for plan-B).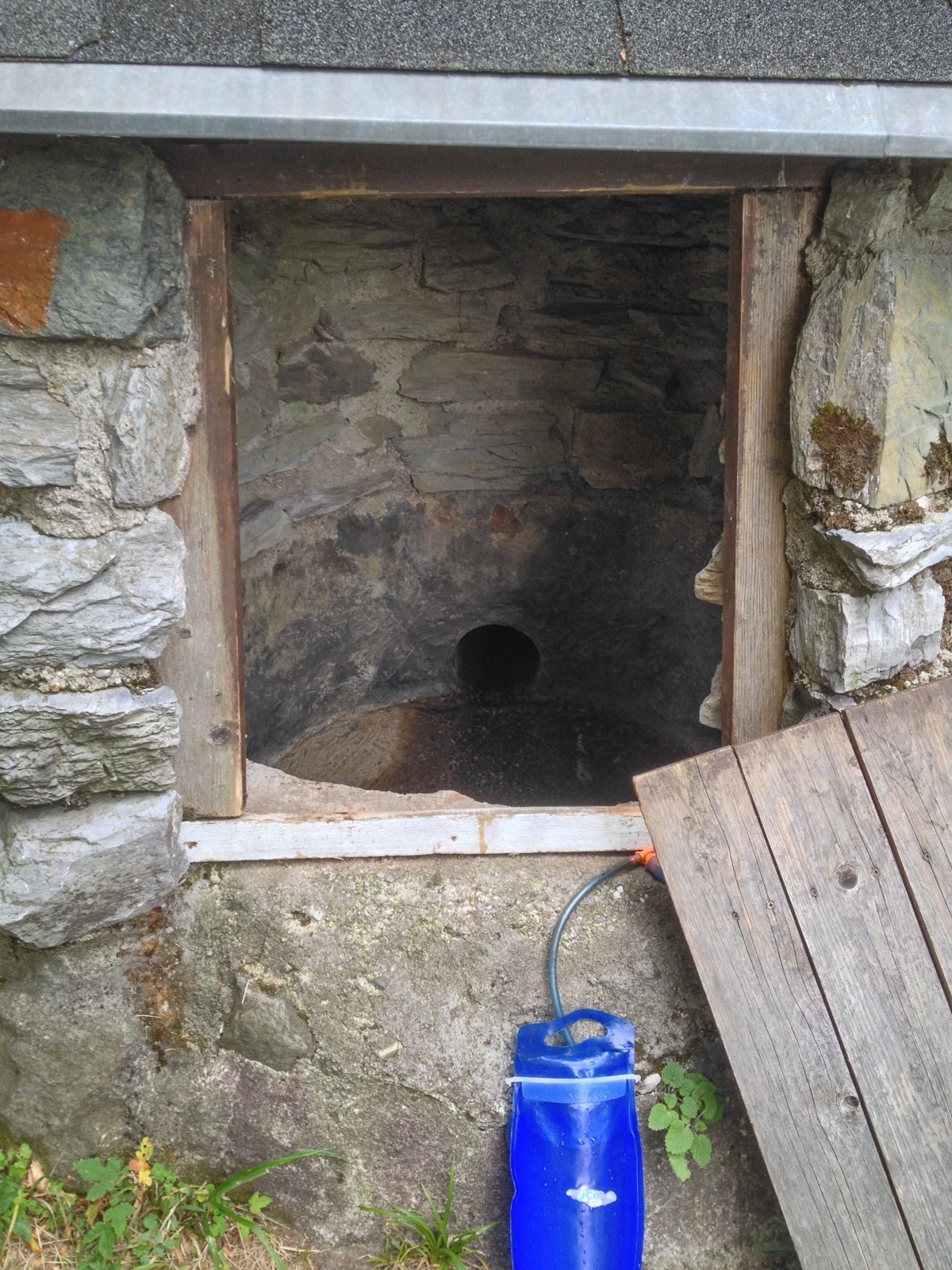 Had to climb in there
Considering the extremely dry last 6 months what I found did not come as a surprise: a tiny well-like structure with a bit of wet mud at the bottom. There was some water slowly leaking from a hole, to which I was fortunately able to attach the drinking-bag tight enough to fill up in a few minutes. (There was a sign saying "PITNÁ VODA" on the well, I was hoping it means "potable water";) The process required me to do a manoeuvre of climbing through a 50 by 50 cm hole into the nut much larger well to access the fresh water.. Fun!
After the refill I don't remember much, there were some uphills and downhills and suddenly got back to Zittau (before sunset, as planned).
After this ride I was only able to eat the — just enough — leftovers from the previous day, do a short stretching and collapse at about 21:00.
Summary:
Distance: 77 km
Time: 8:30
Climbed: 2048.0 meters
Sand: 0 (only rocks and roots here)
Fun/suffer ratio: **
Landscape: ****
Would do it again: no (actually, YES!, would do the same area but with better planning for fun trails)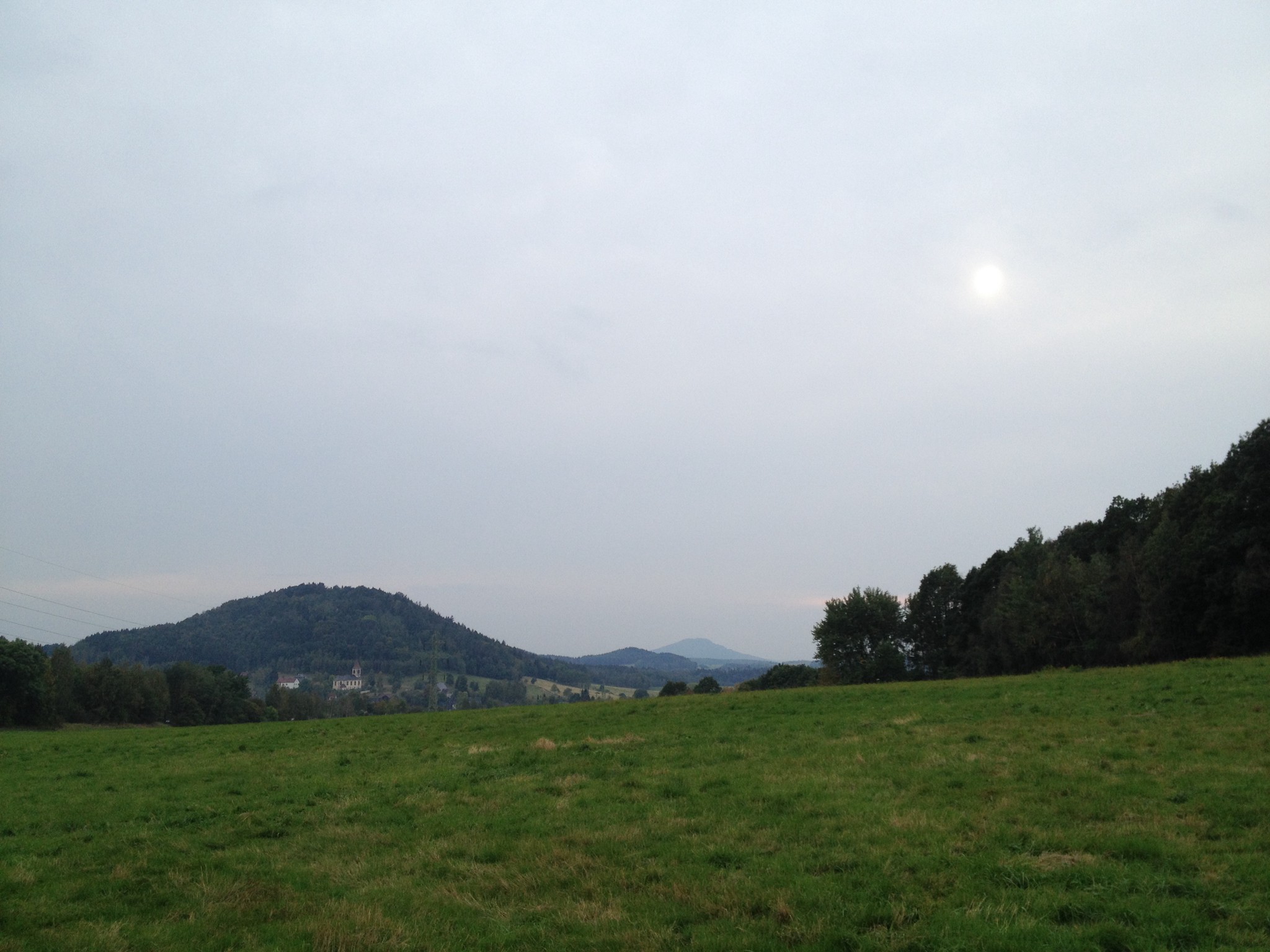 Part three coming soon.