My Bikepacking Packing List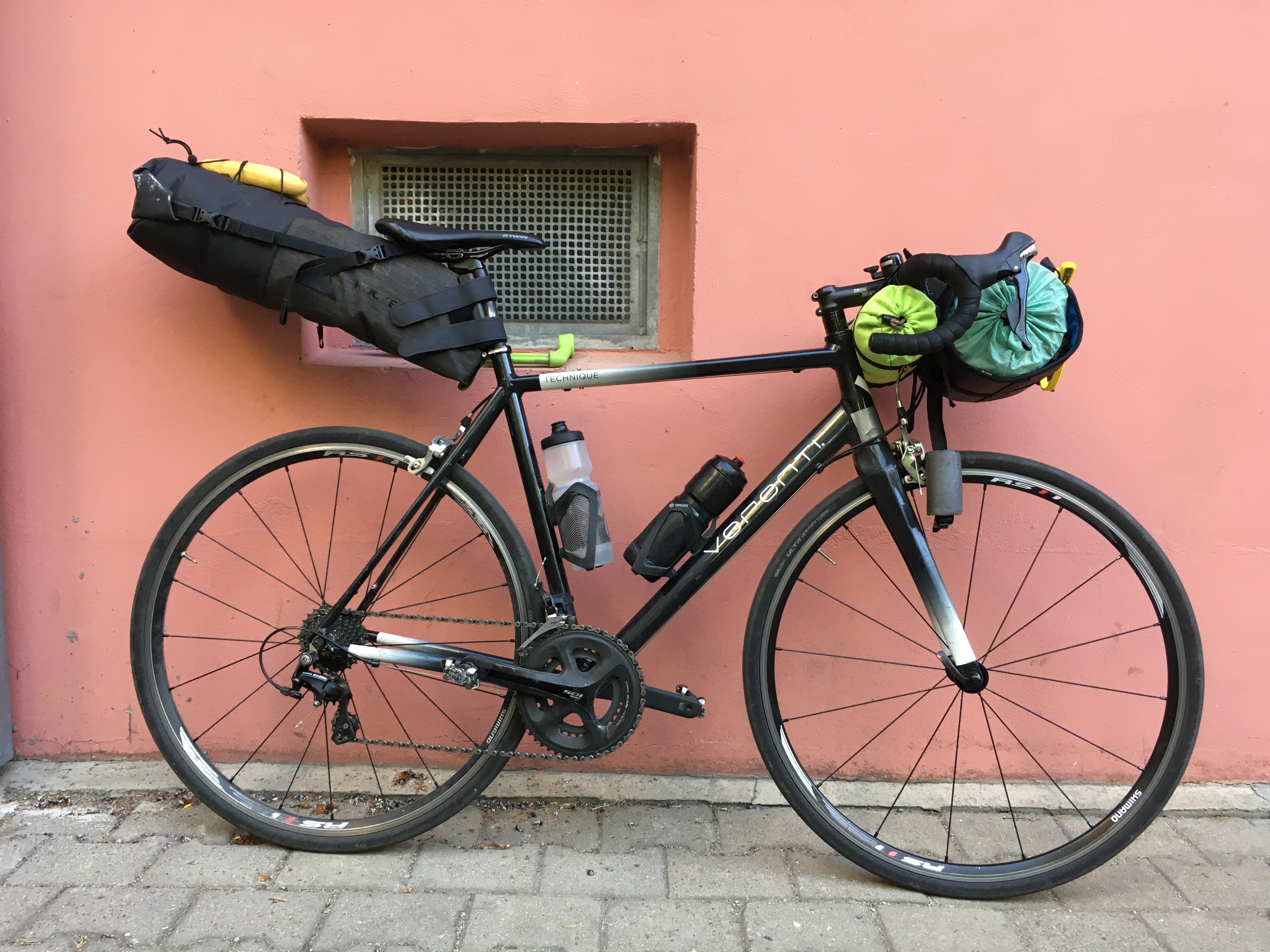 I've started doing short, 2-4 days long bikepacking trips a couple of years ago. Not knowing if this will become my thing or not, I've started with a minimal kit (using whatever I already had, like a road bike) which is today a bit more elaborate, but still not particularly fancy.
Road bike: Verenti Technique 105 (2016) - Budget road bike from Wiggle with Shimano 105 set. Cable runs slightly modified to fit the bags.
Tyres: Continental Ultra Sport 2 (700x28C) - Low cost slick road tires that take a bit of abuse on gravel, dirt and sand easily and they last for very long.
Handlebar bag: BBB BSB-141 size M - Only using the harness for the mat.
Saddle bag: Rockbros 10L waterproof (~2017 edition)
Tent: Six Moon Designs Lunar Solo (green) with carbon pole - 1.5 person non-freestanding tent that packs very small and blends in easily in the forest.
Tent footprint: small size Tyvek sheet from Six Moon Designs.
2 extra stakes and guy lines from a Decathlon tent if there is any rain or wind in the forecast.
Mat: Thermarest TrailLite self inflating (from the early 2000s) - Rather bulky and heavy, due to be replaced to something that uses half the space.
Sleeping bag: Freetime Micropak 800D - Rated 3C/-2C/-18C and that means I'm not cold in 10C if I have 1 layer of clothing on.
Wallet: a small Loksak aLOKSAK Waterproof bag.
Documents: ID, credit card, debit card, cash, health insurance card, BahnCard, organ donor card.
Bike computer: Wahoo ELEMNT Roam - Battery lasts for 2 days.
Phone: iPhone SE (classic) - Always in low power mode and bluetooth off to last through the day.
Battery pack: 6000mAh - Can charge the phone twice.
Charging cables: iPhone lightning cable, mini USB A cable for the Wahoo and the lamp.
Charger: iPhone USB A charger (EU) version - Small and can charge all the gadgets.
Repair kit: zip ties, a piece of duct tape, rubber bands, small rope, needle and floss.
Headlamp: Petzl Actic Core with Petzl Core battery with helmet mount - Chargeable via USB, also takes regular AAA batteries.
Ebook reader: Kindle Paperwhite with padded case - For falling asleep or train rides.
Earphones: Sennheiser MP50 - White noise can help tuning out souds of nature.
Stuff sacks: Sea to Summit (6L, 15L) - Large for clothes, small for accessories.
Pocket knife: Victorinox Swiss Army - Knife, can opener, bottle opener and tweezers are essential (the latter for removing ticks).
Spork: Light My Fire - Nice but does not stand the stuff sack mistreatment and tends to break into pieces.
Bottles: 2 x 750ml cycling bottles mounted on the frame (top of bottom tube, front of seat tube).
Water bag: Platypus Platy 2L - In case we need to carry extra water to the camp.
Water purifier: Microups tabs - For emergencies if drinking from lakes or rivers is the only option.
Salt: 10g - Just in case.
Small foldable backpack: Decathlon Kalenji - For last mile groceries and beer transportation.
Mosquito and tick repellent: Autan - Transferred to a small spray container.
Toothbrush - Handle shortened to fit in a small ziploc bag.
Toothpaste - Travel size, refilled to a large tube.
Soap: a small piece - Not that I ever used one on a trip.
Deodorant: CD travel roll-on deodorant - Acceptable shower substitute.
Sunscreen: SPF 50 - Whatever I have at home in a small container.
Microfiber cloth and wet wipes for cleaning my glasses.
Tissue: pack of 10 or more. Also using it as toilet paper.
Wet toilet paper: travel size 10 pack.
Spare tube
Patch kit and tyre levers.
Spare bolt for the SPD cleat
Pump: a 3 EUR plastic pump I bought 15 years ago.
Rubber gloves (thin and light) - For dirty repair jobs.
Small multitool with chain opener.
Chain lube in a small container - For longer rides or in case of rain.
Rear lamp: cheap and small Chinese lamp, chargeable via USB.
Emergency blanket: for various cold or wet incidents.
1 short sleeve cycling jersey: with 3 back pockets.
1 long sleeve cycling jersey
1 pair of bib shorts: padded.
Rain jacket: Altura cycling jacket - Small and folds down to a tight pack. Also keeps warm on cold nights.
Underwear: 1 piece of lycra trunk briefs, bought them 10 years ago in Walmart.
2 pairs of socks - Light/warm depending on the weather.
Shorts: Decathlon fitness shorts - A pair of loose shorts for the evenings.
Swimwear: 25 year old Speedos, in case naked swimming is not an option.
Towel: Sea to Summit Dry Lite microfibre towel, medium size.
Arm and knee warmers: depending on the weather.
Neck warmer: 66 North merino - For cold nights and chilly mornings.
Light buff: an old piece of unknown origin - I always wear this under the helmet, keeps my head warm or the bugs away.
Earplugs: Pluggerz SleepSleep Uni-Fit - I'm a very shallow sleeper.
Eye mask: from intercontinental flights.
Shoes: Scott MTB shoes with Shimano SM-SH51 cleats.
Helmet: Specialized Propero 2
Bike "lock": Hiplok ZCOM1YL - Takes about 30 seconds to open it without knowing the combination, helps the bike from falling during a train ride.