How I Learned to Hate Garmin Edge 1000 in Three Days — Part One
I am a mountain biker. Not a brave downhill hero, not a fast marathonist athlete. Rather a sporty explorer who never does exactly the same route again. I prefer the new to the usual.
When it comes to mountain biking, it requires navigation skills and tools. Before smartphones became a thing and GPS devices mainstream, I was absolutely fine with printed maps, maybe because the area I covered had a smaller, few 100 kilometers radius around my hometown.
But things changed when I bought my iPhone years ago and started using it as a primary means of navigation (mostly using MotionX GPS). But the phone got older, both the battery and the operation system reached their limits on the iPhone 4s: it became unbearably painful to use (basically for everything else and including navigation). It also has never been a first class navigation device, never mounted on the bike, and there is the pain with entering the pin over and over, battery dying all the time.
Anyway, it was long overdue to figure out something proper. Given the increasing frustration caused by the phone and an upcoming bike-weekend, quick research (two evenings) revealed that the best choice must be one of the top-range Garmin cycling-specific GPS devices.
Unfortunately this turned out to be not true for my use case. What I wanted was a smart digital map on high quality hardware, what I got was a pile of cycling specific features I never actually wanted to use and a mediocre digital map. For example I successfully managed the last 15 years of riding without a cadence sensor but a map without elevation lines is not really useful for my style of adventure mountain biking.
Here is what I found great and horrible about the Garmin Edge 1000 during two full and one half days of riding in the woods on the German-Czech border.
Unpacking, first impressions
I ordered the device + sensors all in package which is shipped in a nice compact packaging wrapped into a slightly bigger box by Amazon. The initial settings were easy to find, there was basically not much to configure except creating a profile besides "Train" and "Race" (things I never do nowadays) named "Tour". Funnily enough there is a step-by-step onboarding process (prompting for age, body weight, etc) which started after having used the device for a whole day (likely a bug).
Garmin Express (the minimalistic desktop software) takes a few seconds to install, the Garmin Connect account (connect.garmin.com, the online full featured software) is quick and easy to set up from Express. For long time Strava users Connect will be more like a bad joke which is why it is very convenient to have a few clicks long "automatically export everything to Strava" plugin right in the middle of the page. And never directly use Connect again.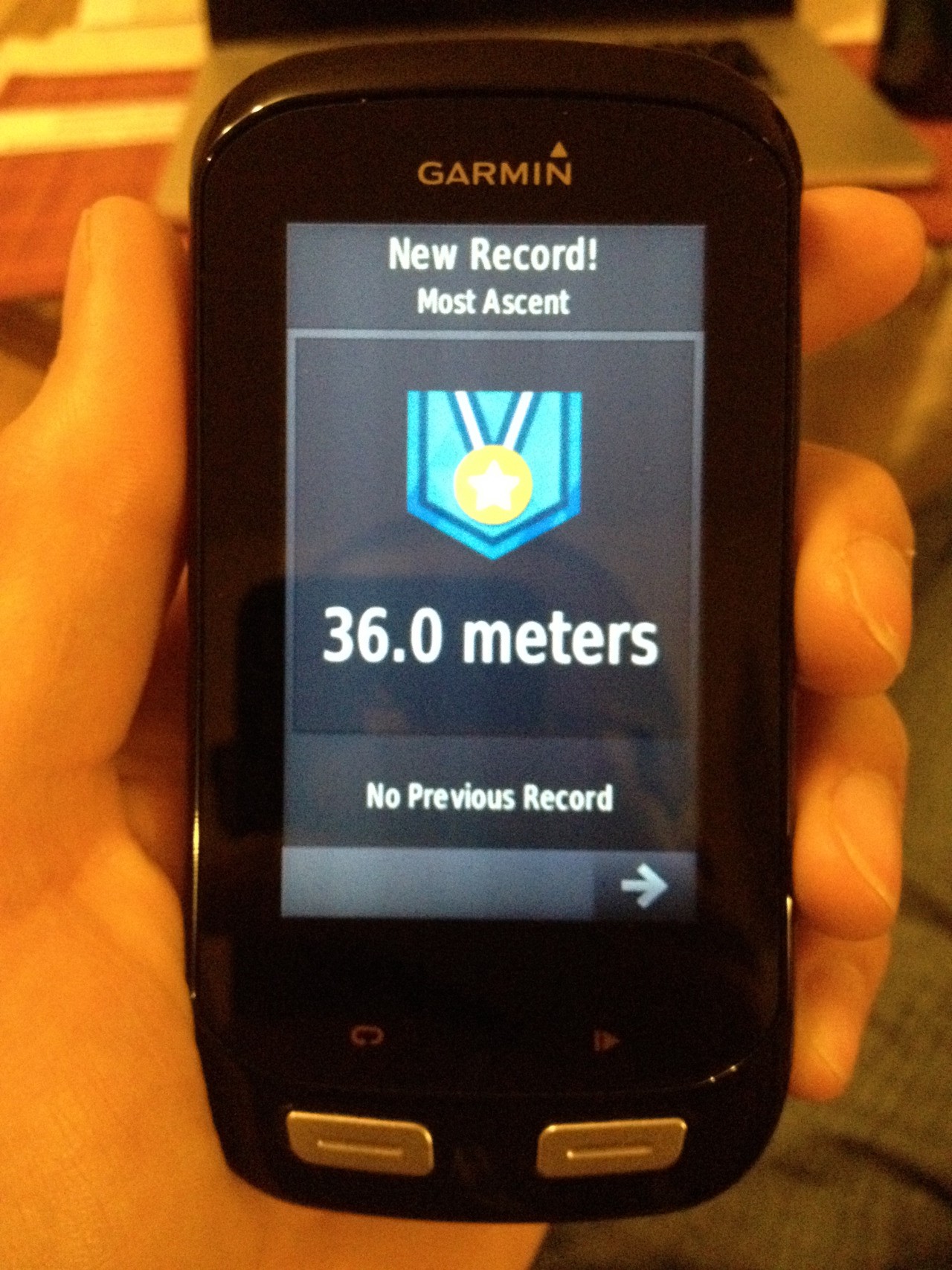 Mounting could not be easier
The package only contains a few pages of printed instructions, which is exactly how much was needed: how to install the device and the other gadgets onto the bike. For me the quarter-turn mount on top of the stem seemed to be the perfect fit. I also decided to add one gadget at a time, starting with the speed sensor. Everything was easy and quick.
What a spectacular #fail the quarter-turn mount is
I know there is a big hype around it (even other manufacturers are copying) and the quarter-turn mount is definitely superior to the slide-in style solutions known since the stone-age of cycle computers, but it badly failed for me. I mean, I can not deny it's simple, smooth and quick…
However, during the first two rides I found the device accidentally turned by about 1/8 turn a couple of times, it was never really obvious how. I must have touched it with my knee, backpack or when pulling up the bike from the ground (yes, mountain bikes are allowed to be laid down;) I was wondering if losing the device this way was a possibility..
Well, as it turned out on the on the third day, it was. On a not too fast downhill section I heard something hitting the top tube and my peripheral vision detected something landing on the roadside. It was the Garmin :( Fortunately — probably thanks to the shockproof case — it survived without any noticeable scratches.
My stem is only slightly longer than the device, but still longer. However no stem will be wider than the Edge, meaning there will always be room for accidentally turning it — which I understand is much less likely on a road bike.
The quarter-turn lock is a great idea but needs a true locking mechanism for abusers like me.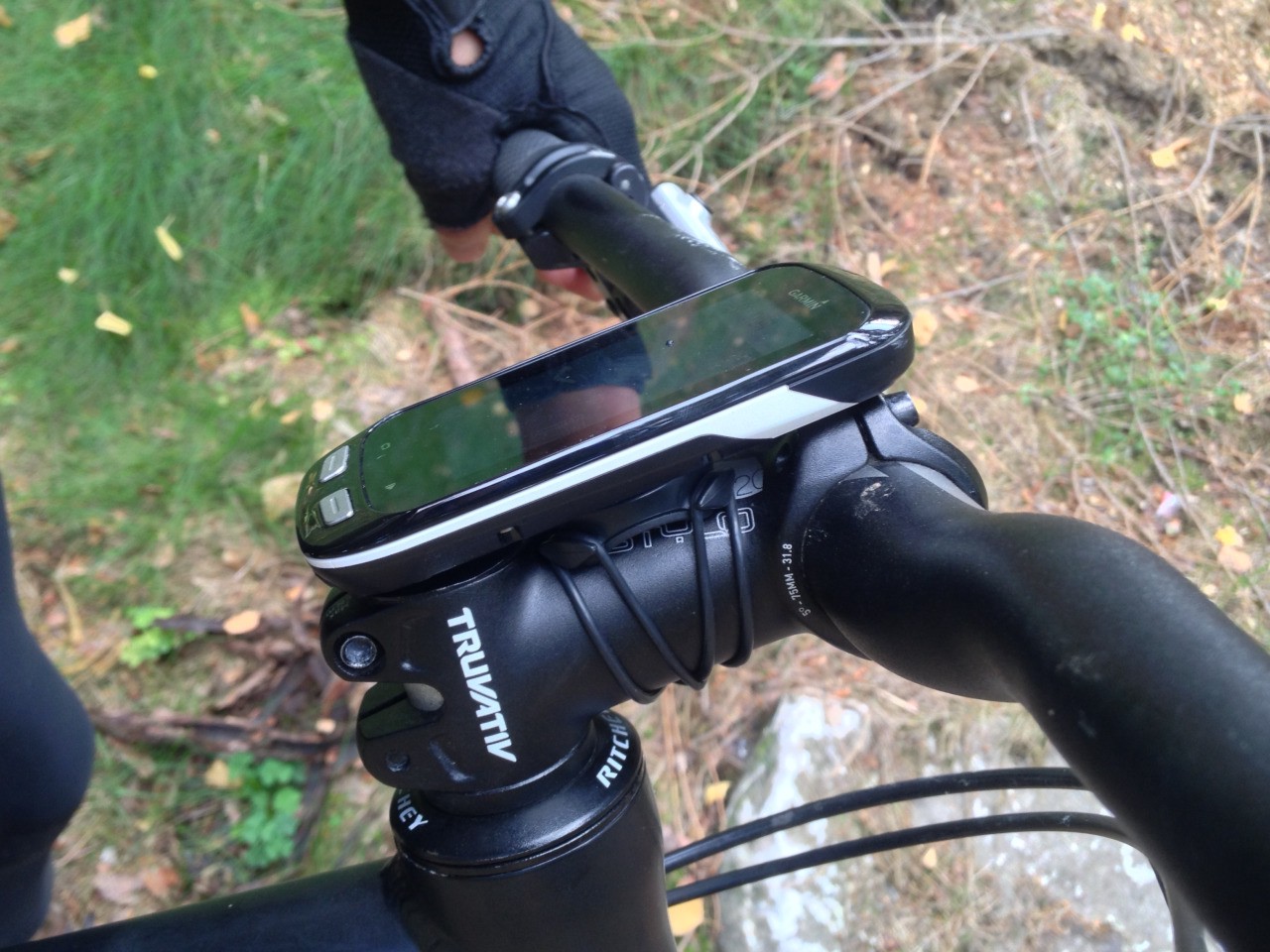 Battery life: a GPS that needs an external battery pack
The advertised battery life of the Edge 1000 is "up to 15 hours". On the first day I accidentally left the backlight at maximum and always on (which as far as I remember was the factory default). Got the low warning (25%) after about 2:30, with speed sensor and follow course navigation on. With backlight completely off, sensors off, the battery lasted about five more hours. Not bad, but having no good navigation alternative (except data roaming and online maps) and not knowing how much is left, I felt a bit uncomfortable.
On the second day I took the good old battery pack with me, and on the third I actually managed to measure my average battery usage: following a preprogrammed course, with no sensors on, backlight with 15s delay the battery dropped 50% within a little more than three hours of moving time. If I am conscious enough with power consumption, it might be able to do a long day ride — with compromises of course. Not amazing at all, especially considering the batteries are not swappable.
The great screen
One of the main reasons I bought the Edge was the high screen resolution which is a must for reading maps for example in case of ad-hoc rerouting or exploring trails in a given area. Now the display is one of the features I can not say anything bad about: resolution is great, reading without backlight is surprisingly ok (due to the stem angle I need to lean back a bit for optimal visibility), touch sensitivity is fine, it even — sort of — works with gloves on (needs patience though:).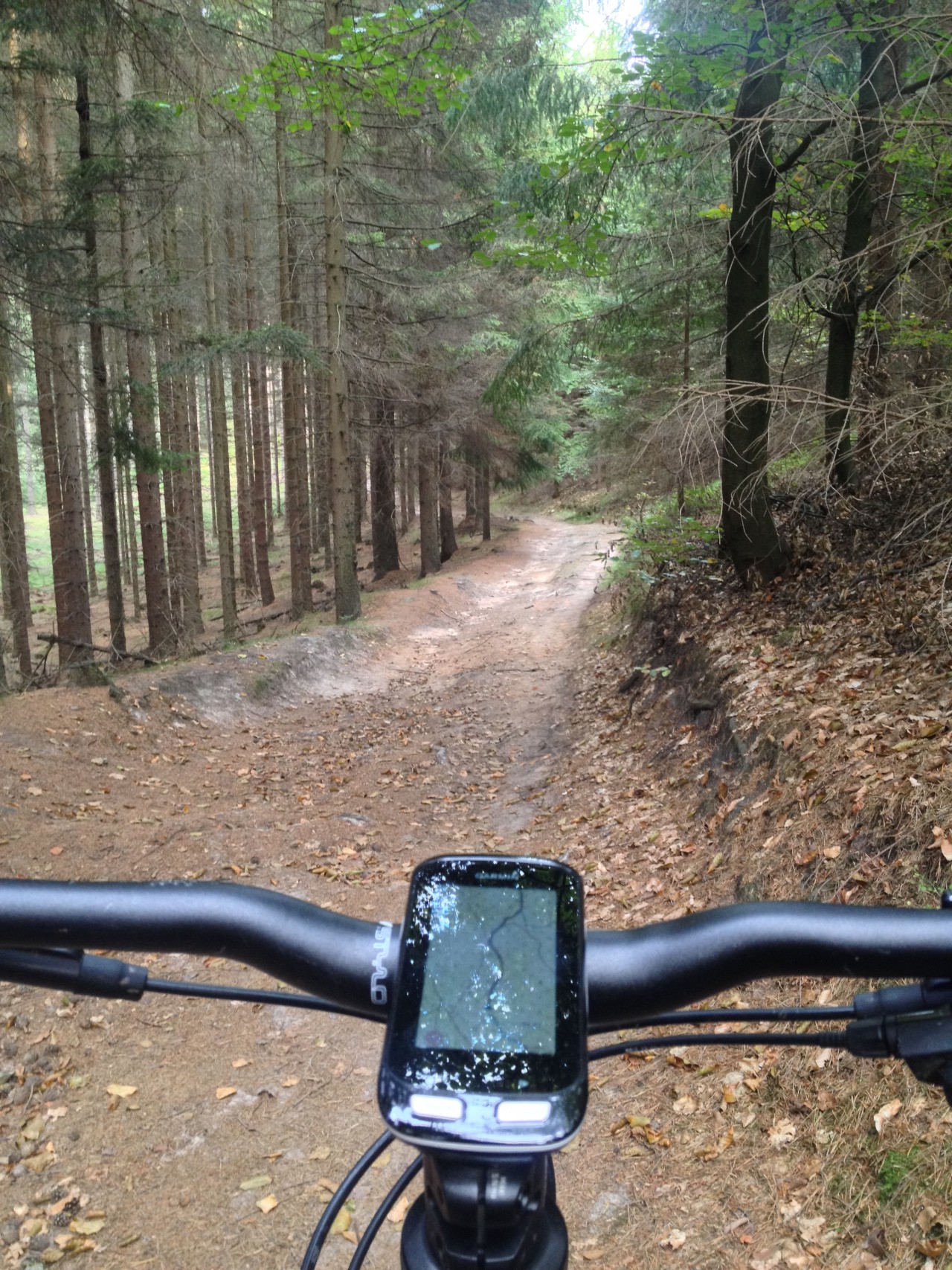 In the next part of my review I will write about the software and some other aspects of the hardware.